Regular price
Sale price
€89,90 EUR
Unit price
per
Sale
Sold out
Jalo Helsinki fire blankets are safe, easy to use, durable and beautifully designed.
The fire blanket's pouch is made of Portuguese chrome-free Biocouro leather.
The blanket is treated with a silicone coating to improve fire protection.
The fire blanket is also suitable for personal protection, for example when escaping a burning building.
Size 120 x 180 cm
The blanket complies with the EN 1869:2019 standard.
Shipping

Free door-to-door delivery within 2-10 days, depending on the shipping location. Learn more about shipping here.
Returns

Don't love it? Return it within 30 days.
View full details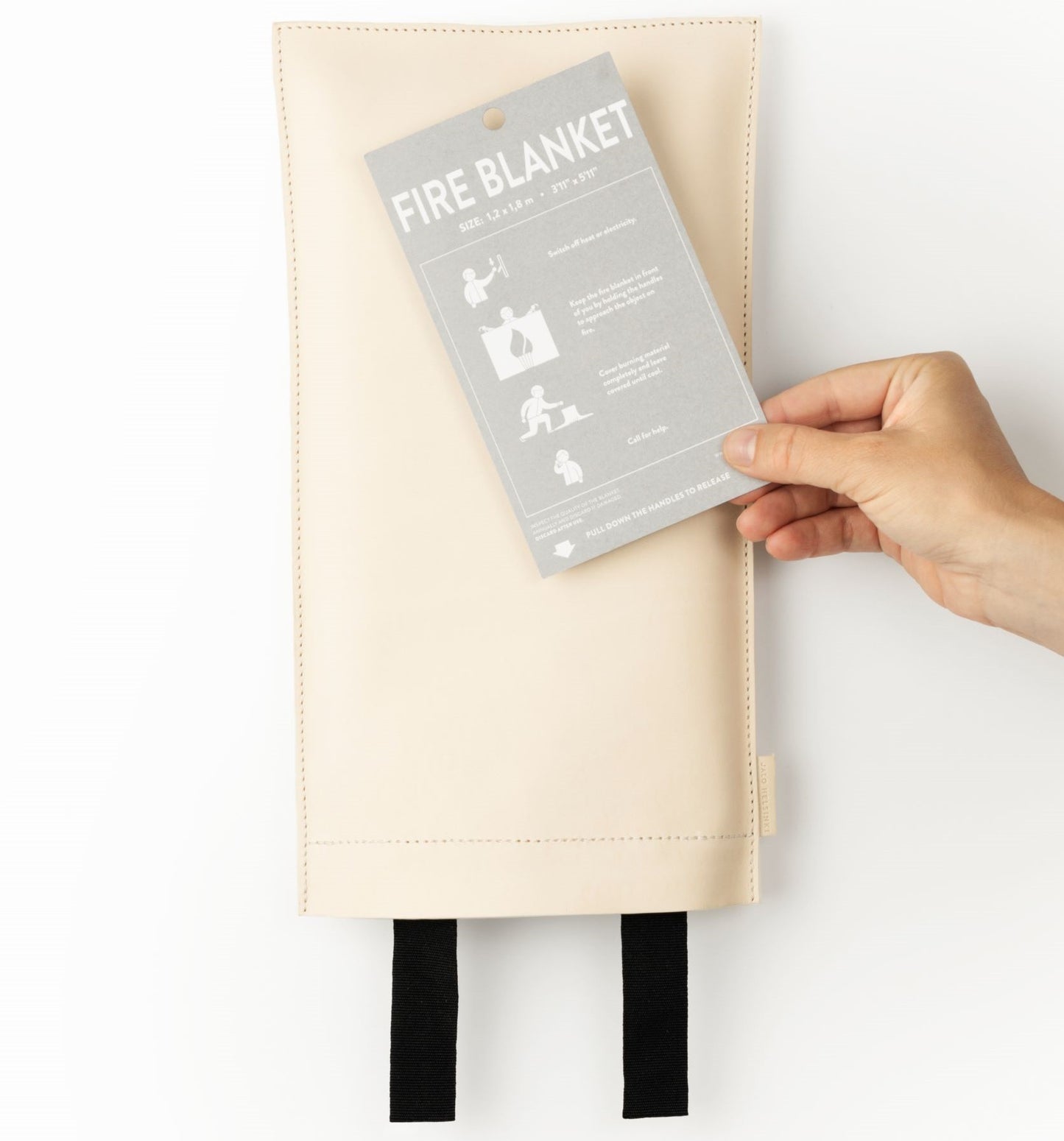 Additional information
Features

Pouch chrome-free, eco-friendly Biocouro leather from Portugal.
Includes a mounting screw.
Suitable also for personal protection when escaping from a burning building.
Silicone coating.

Coating

The actual fire blanket is coated with silicone to improve the performance in fire extinguishing and to make the blanket lighter and thus easier to handle.

Standard

Jalo Helsinki fire blankets comply with the European standard for fire blankets EN 1869:1997 and can be used in all European countries and other countries where the EN1869:1997 standard is applicable.
Frequently asked questions
What are fire blankets?

Fire blankets are a useful fire safety product for every home and are recommended for installation, especially in kitchens. Their function is based on fire suppression. There is a European standard for fire blankets, EN1869:1997, to which Jalo Helsinki fire blankets also conform. We therefore recommend that you install a beautiful fire blanket in a visible place, for example in the kitchen, where it can be accessed quickly if necessary.
How many fire blankets do I need?

There is no precise figure for the number of fire blankets. In fact, we recommend that you have at least one fire blanket per potential source of fire in your home. Install a fire blanket in a visible location close to the potential source of the fire so that it can be quickly deployed if necessary.
How does silicone coating differ from others?

The silicone-coated blanket is more airtight than traditional fibreglass-only fire blankets. This makes fire suppression easier than ever before. In addition, the silicone-coated blanket is almost 40% lighter than a traditional fire blanket.
*Biocouro
Biocouro eco-friendly leather is produced in the Curtumes Aveneda leather factory in Sao Vicente Pereira. Biocouro is the trade name for synthetically produced white tanned leather free of chromium and heavy metals. White tanning can be done chrome-free using the same equipment as chrome tanning. The process has been specifically developed to improve the biodegradability of leather. Biocouro is a fully biodegradable product according to the ISO 20200:2004 standard, i.e. 100% degradation is achieved in less than 15 days.